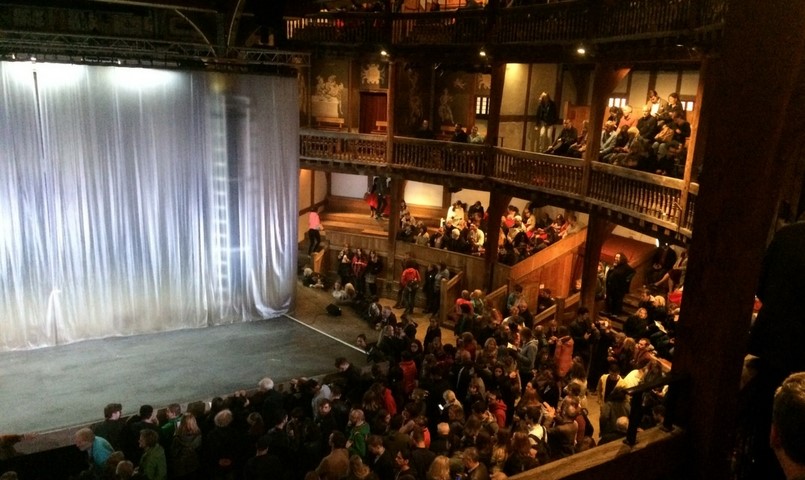 Wonderful addition to The Globe season
20th September 2016
As lovers of all things Tudor you won't be surprised to know that whenever we can we go to see Shakespeare's productions at the wonderful Globe Theatre.  It's THE place to watch his plays and we have a mission to see every single one of his plays at The Globe.  Earlier in the season we watched Cymbeline at the Sam Wannamaker Theatre at The Globe and recently we saw it re-imagined as Imogen, the name of the lead character.  It was stunning!
Set in 2016, using a stage that was bare of all but translucent plastic curtains which surrounded the famous four pillars, it was Shakespeare for the modern age.  The crew came out rapping, the music throbbing as the curtains revealed a drug deal (the various political groups and royal family were gangs in an urban environment.)  We sat up in our seats, not sure if this was going to be our 'cup of tea' and then the actors started to recite Shakespeare's lines and we were immediately entranced.
There was beauty and pathos, love and terror, trust and betrayal.  If the first act was thrilling the second was gripping with an aerial fight scene that brought an ethereal beauty to the violence that engulfed the players.  Shakespeare truly is a playwright of immense talent and The Globe, fixed as it is by the architecture of the age it represents also allows for the most imaginative reinterpretations of today's producers.  Those Tudors and Elizabethans certainly knew a thing or two about setting the scene! 
< Back to News