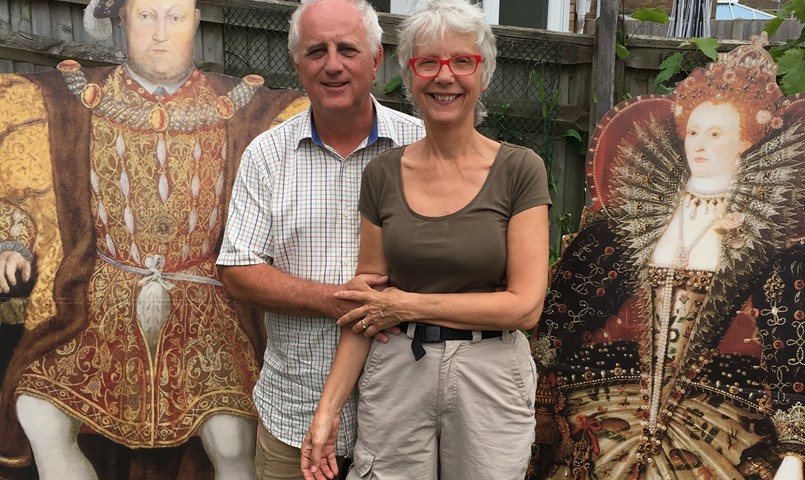 From Queen to King
19th September 2023
What an eventful year for us with a new King on the throne.  It's been very strange to say God Save the King whilst we fondly remember our late Queen.  The queues to see her final resting place in Windsor silently and respectfully wind their way round and through the Chapel Royal.  A simple slab it nevertheless creates a profound impact on all who see it.  In centuries of tradition the title passed smoothly to the son and we're now starting to see coinage with Charles' head as he forges his own path in his new role.
Thankfully the summer weather in England meant we didn't experience the tremendous heat waves experienced in southern Europe so our guests were able to enjoy their vacations in comfort.  Along with our scheduled tours we also had some interesting requests for individually designed tours, as well as the odd day's guiding in and around London.
It is always a delight to see the reaction of our guests when they touch the walls of a building built in the 1200s or see where Henry lived as a boy, or watch young children recreate the Battle of Bosworth (under adult supervision of course!).  This season has seen us also incorporate the wishes of a young person who wanted to see where some of Harry Potter was filmed, whilst the adults followed the lives of the Tudors, and so we were able to travel to the green fields and white cliffs of Sussex to imagine the Quidich World Cup whilst seeing where Queens were buried and jousts were held in other parts of England.  
That's one of the privileges of having a family run business.  We're able to cater for individuals and truly share our love of England's history both ancient and modern.  We're so looking forward to 2024 and welcoming more guests who quickly become friends.
< Back to News