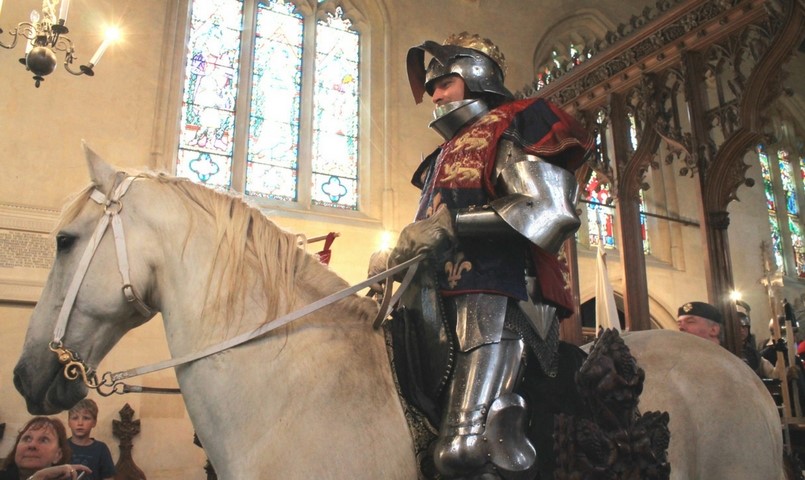 One tale that will top them all!
2nd September 2016
The summer season is over and we're reflecting on the things we've seen and done on our tours.  All of our guests take tales of the wonderful things they've seen back to their families and friends but this year we think there's one tale that will top them all.
We were at Sudely in Gloucestershire, the family home of Catherine Parr, Henry VIII's last wife.  It's a beautiful venue with magnificent grounds where there's changing displays of art and sculptures scattered around the gardens.  This year we'd timed our 6 Wives tour to be there when they were celebrating Richard III's battles.
As we came onto site we could see on an adjoining field the re-enactors resplendent in their armour, the ladies sumptuously gowned.  We spent time looking around the house and as we came out of the door onto the drive the heralds were before us shouting, "Make way, make way!".  
You couldn't mistake the noise as the soldiers came marching in front of us three abreast, their plates of armour glistening in the sunlight so we stepped back.  "The King, the King!"
Richard III, astride his magnificent white horse was before us thanking his valiant soldiers, knights and ladies, the general populace for their support in his fight against England's enemies.  And then it started to rain.
The King instructed everyone to enter the church so we followed the knights and ladies into the pews.  Then we turned and...
... coming behind us was Richard III on his horse, riding down the aisle!
The horse was skittish, not liking the ground underneath its hooves but Richard kept it firm.  As he came to the front he turned his steed to face us and praised his soldiers for their bravery once more. Then raised his hand and left from whence he came.
It was truly an experience that our guests will never forget, and one that we will talk about for many years to come.
< Back to News