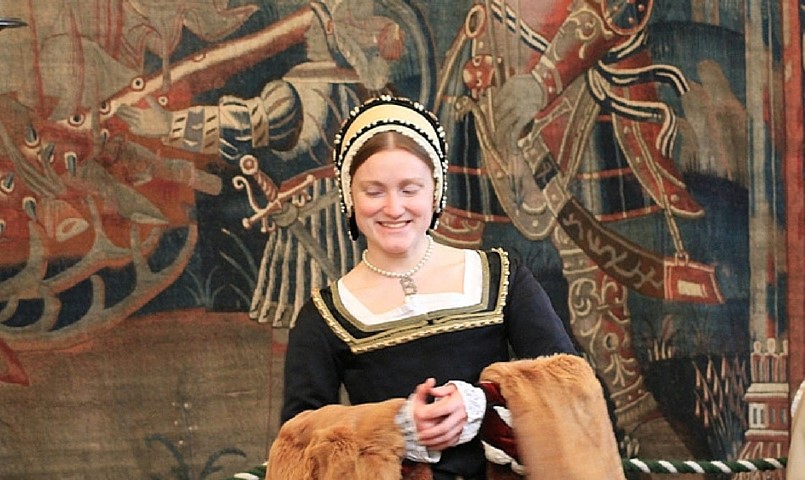 One remembered King
We take you on an evocative journey to explore the lives of all of Henry's six wives. Divorced, Beheaded, Died, Divorced, Beheaded, Survived. Or even The Betrayed wife, the Temptress, the Good woman, the Ugly sister, the Teenage bad girl and the Mother figure. All six have a different story to tell.
How did these six different women live and how did they become consorts to the most notorious King that  England has ever seen?  We visit their childhood homes, divorce settlements and take you on a pilgrimage to their final resting places.  This fully guided tour takes you to the famous sites that should not be missed but also  those off the beaten track.  We have specially commissioned private tours and take you to sites away from the tourist trail for your own unique insights into their lives.
Accommodation
All the hotels are specially chosen for their historic importance and character. They are mostly old Coaching Inns that have retained their historic character with low oak beams, uneven floors and some still have their big fireplaces. All rooms have en-suite facilities.
Costs include transport during the tour, entrance fees to heritage sites, attractions and activities, bed and breakfast at the hotels and a sumptuous Tudor banquet held at a venue in London on the last night of the tour.
Please note that centuries old castles and houses were not built with lifts and escalators. Some have many steps and restricted access points. Some of the old inns at which we stay do not have lifts either.  Please ask us about any mobility issues, if you have any of these considerations as we can provide an honest assessment of all of the places we visit and hotels we use.
Tour Itinerary
Day 1 Day 2 Day 3 Day 4 Day 5 Day 6 Day 7 Day 8 Day 9 Day 10 Day 11
Day 1 The Vyne and Syon House
Travelling south to Hampshire we visit The Vyne owned by one of Henry VIII's courtiers and Henry visited here with Catherine of Aragon.  It has the finest original oak panelled long gallery in the country.
The London home of the Duke of Northumberland, Syon House is where Catherine Howard was held after her arrest before being transported to the Tower of London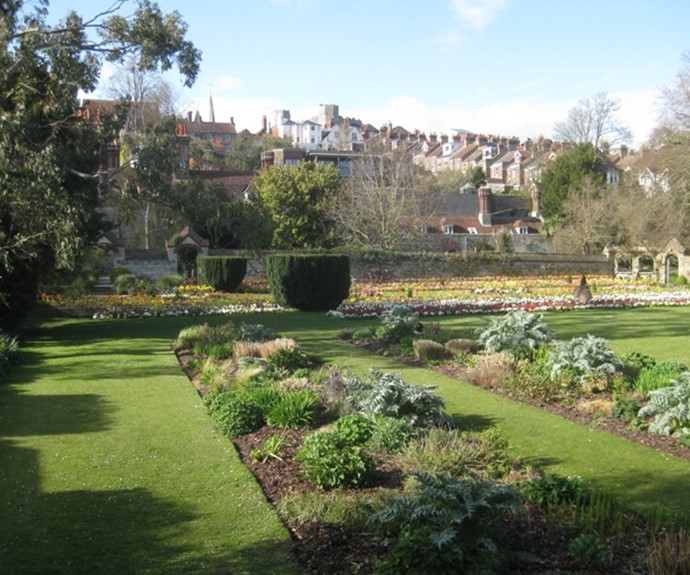 Day 2 Cambridge, Buckden Towers & Kimbolton
We journey north-east to Cambridge and Kings College Chapel with the largest fan vaulted roof construction still standing in the world. Traces of two wives can be found here, Anne Boleyn and Catherine Howard.
Then it's on to Buckden Towers, a Bishops Palace where Catherine of Aragon lived before she was forcibly taken to nearly Kimbolton Castle where she died. Kimbolton Castle is not generally open to the public but a special guided tour for Tudor History Tours has been arranged by appointment.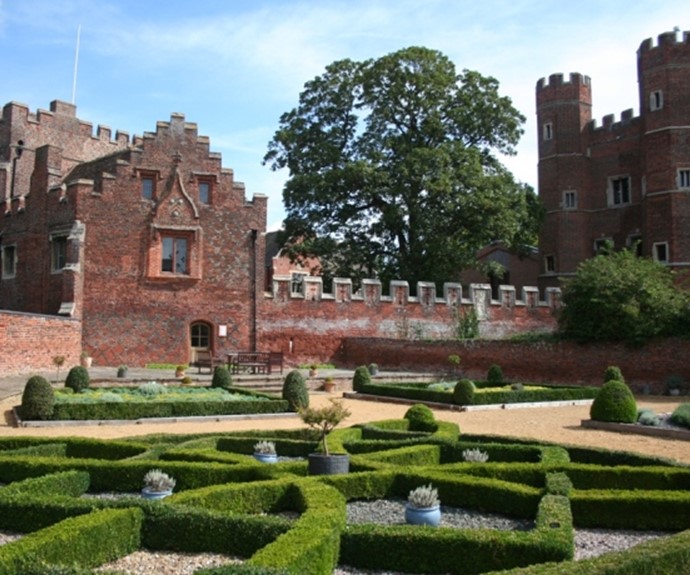 Day 3 Peterborough Cathedral, Richard III Centre and Bosworth
Peterborough Cathedral is where Catherine of Aragon is buried.  Even in death Henry was unkind to her, she was buried as Dowager Princess of Wales.  Not until the 19th century was a more fitting memorial established when all women called Catherine were asked to make a donation to pay for it.
The Tudor Age began at the Battle of Bosworth Field, Leicester 22 August 1485.  Henry Tudor was victorious and Richard III, the last Plantagent King was killed fighting for his crown.  His mistreated and forgotten body was discovered in 2013 under a council workers' car park.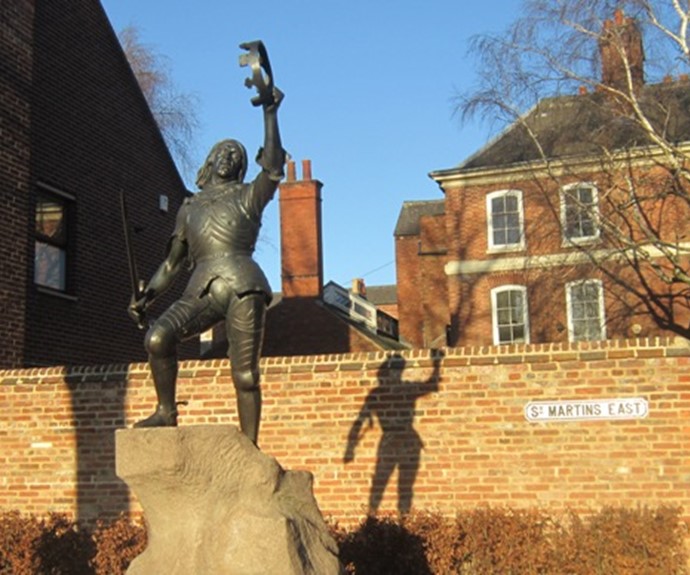 Day 4 Kenilworth & Warwick
Kenilworth Castle in Warwickshire is where Robert Dudley, in an effort to woo Elizabeth, spent millions in today's money to build a castle and garden fit for a Queen, reproduced now by English Heritage.  The Castle has been a royal pleasure palace since John of Gaunt. It was here that Henry V in 1415 received a gift of a chest of Tennis balls from the French Prince, immortalised in Shakespeare.
Then to Warwick to see the Earl of Leycester hospital, an alms house endowed by Dudley as a retirement home  for the Queen's soldiers and it is still used as such to this day.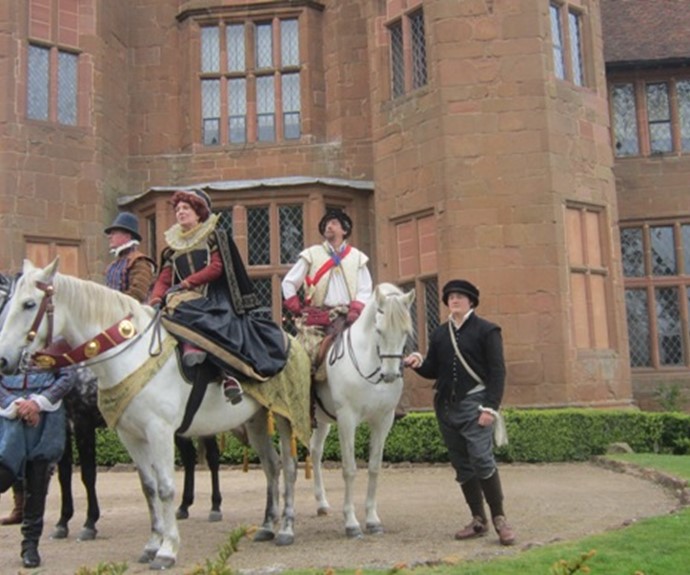 Day 5 Coughton and Sudeley
 We first travel to Coughton Court,  home of the Throckmortons, an important family throughout the period.  A bishops cope believed to be made by Catherine of Aragon is on display here.  Next it is to Sudely Castle in Gloucestershire, Sudeley is a grand manor house and the family home of Thomas Seymour, who married Catherine Parr, Henry VIII's last wife, after Henry died. Catherine is buried in a peaceful setting of St Mary's church within the grounds.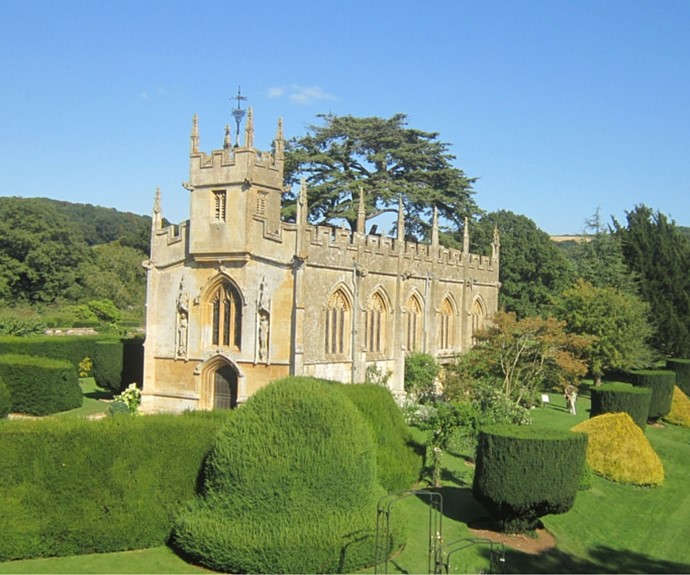 Day 6 Windsor
After watching the Changing of the Guard at 11.00am sharp there will be time to wander around Windsor and visit the Castle.
Windsor Castle is the largest inhabited castle in Europe and home of our present Sovereign. There are many exhibitions to see here and the glorious State Apartments hold many original portraits of the Tudors. 
We can attend evensong at St George's Chapel within the walls of Windsor Castle. Henry VIII and his favourite wife, Jane, are buried here.
Day 7 Hampton Court Palace
17 miles south west of central London, Hampton Court Palace is perhaps the most famous Palace in the English speaking world. It is the only surviving palace out of the 60 that Henry VIII built or confiscated. Henry married two of his wives here. Hampton Court Palace is huge and it will take a few hours just to see all the notable Tudor rooms, there are the glorious gardens, the maze,  the Baroque palace.......... And we can heartily recommend the kings ale pie for lunch.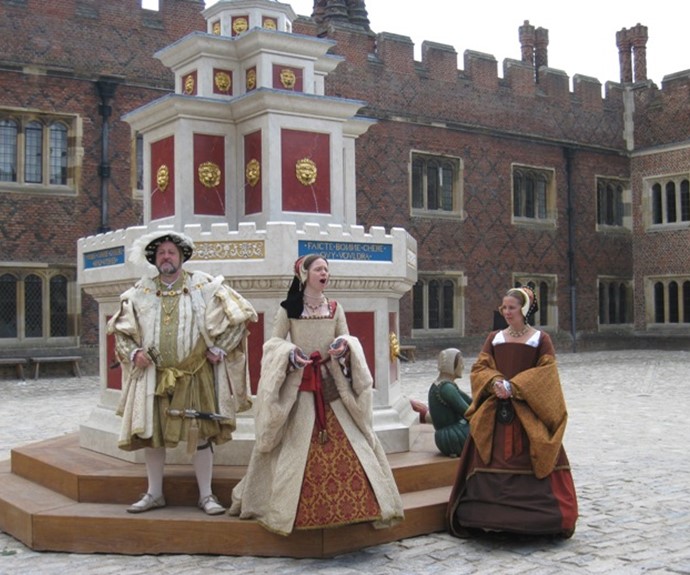 Day 8 Lewes and Michelham Priory
In the ancient town of Lewes we learn about its long and fascinating history.  During Bloody Mary's reign 17 Protestant martyrs were burned at the stake here. 
Nearby lies the beautiful, moated Michelham Priory which was due for destruction during the Dissolution of the Monasteries but Thomas Cromwell liked the place so much he kept it himself.  Upon his execution it was given to Anne of Cleves.  Compare this to Lewes Priory to appreciate the influence of the church in Sussex since the Middle Ages.
Day 9 Hever & Penshurst Place
Hever Castle in Kent is the childhood home of the charismatic and notorious Anne Boleyn, responsible for one of its most famous love stories.  Thanks to her influence Henry broke from the Catholic Church and the Reformation followed, a schism that exists to this day. Originally a fortified manor house. 
Penshurst Place has been the home of the Sidney family for over 450 years: excluding the short time it belonged to the Crown and was given to Anne of Cleves. Queen Elizabeth I came here often.  Many of the period films are shot at Penshurst including Anne of a Thousand Days and the Other Boleyn Girl.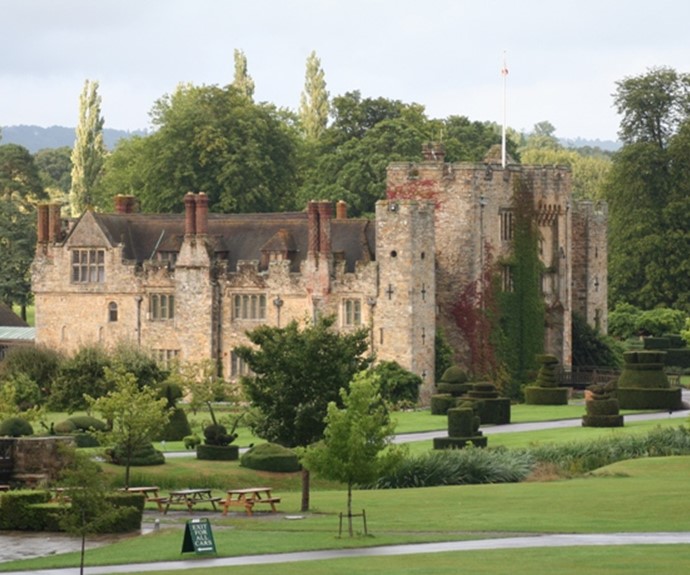 Day 10 Westminster Abbey & the Tower of London
The Tower of London, steeped in the nation's history for 1,000 years and where two of Henry's queens,  Anne Boleyn and Catherine Howard were executed and interred under the altar of St Peter-ad-Vincula.  Famous for the Crown Jewels, there are many exhibitions in the Tower.
Westminster Abbey is the coronation site of England's Kings and Queens since 1066. Ten of England's Royal Sovereigns are buried here including Elizabeth I.  We finish off the tour with a seasonal performance at the Globe Theatre.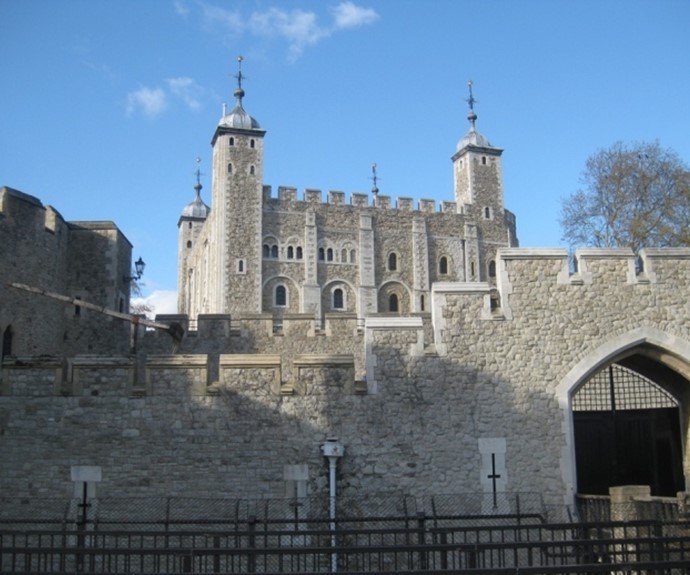 day 11 Farewell
The previous evening was a fitting finale for our Grand Progress.  After a leisurely breakfast we arrange transport back to a London mainline railway station or London airport if agreed when booking. For those who have later journeys, we can arrange additional trips to sites in London if these have been agreed prior to arrival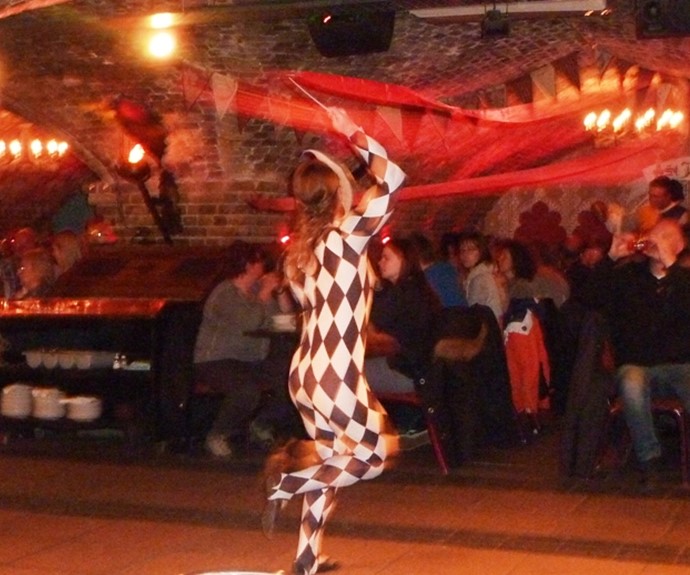 Tour Dates
12th - 22nd May 2024
What's Included
Six Wives of One King
Windsor Castle, Hampton Court Palace, Cambridge, Kings College Chapel, Buckden Towers, Kimbolton, Peterborough Cathedral, Richard III Centre, Kenilworth Castle, Warwick, Coughton Court , Sudeley Castle, Lewes Priory, Anne of Cleves House, Michelham Priory, Hever Castle, Penshurst Place, Westminster Abbey, The Tower of London and Shakespeare's Globe Theatre.
All entry fees
Bed & breakfast accommodation
All tour transport
Personalised History Tours
We can cater for small family groups or individuals and provide a unique Royal Progress Tour to suit any requirements, or design an independent itinerary. Our speciality is the Tudor period but we can organise any tour or even days out of London that will satisfy everyone in the family. We've mixed Henry VIII and Jane Austen, Roman Britain and Harry Potter.  With Tudor History Tours you can sit back and enjoy and let us plan the details.
Find out more >