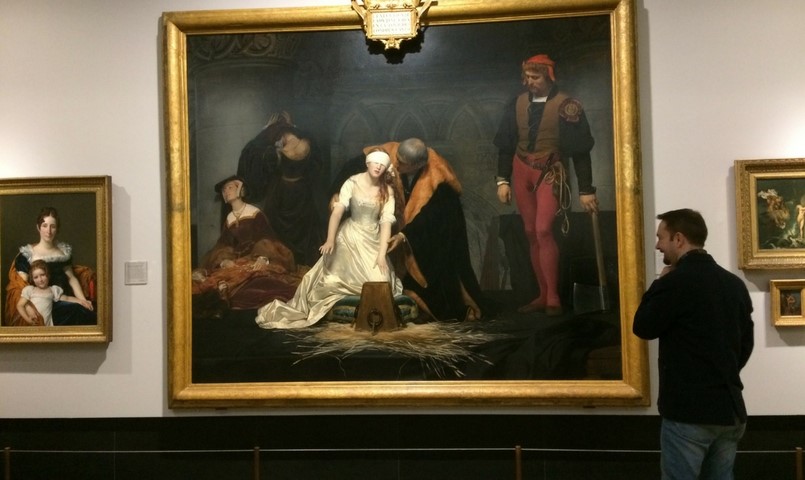 The 8-day Queen
6th March 2017
This famous painting of Lady Jane Grey is the most visited portrait in National Gallery in London. It is so popular that they have to re-varnish the floor every year as the tourists wear it away.  The portrait shows the moment when Lady Jane was blindfolded and when she could not find the block with her hands cried, " What should I do? " She had to be guided to meet her death.  Of course the painting is a Victorian romanticised version of what actually happened to this unfortunate young lass caught up in the maelstrom of Tudor politics. 
Lady Jane didn't want to be Queen but was nominated by her cousin, Edward VI, the Boy King in his will. She was proclaimed Queen by her Uncle, the Earl of Northumberland at the Long Gallery in Syon House.  She was conveyed in State to the Tower of London, at the time a Royal Residence and accepted as Queen by the Privy Council.   Mary Tudor, Bloody Mary, held a counter 'revolution' and mustered her forces in Framlingham, Suffolk and marched on London to take the throne.   Northumberland gathered his troops and marched to fight her but in his absence the Privy Council transferred their allegiance to Mary.  Northumberland paid for his actions with his life on 22 August 1553 and poor Lady Jane was found guilty of 'signing documents as Jane the Queen' and thus committing treason.  It was Thomas Wyatt's Protestant uprising that sealed her fate as she was deemed to be a rallying figurehead and was thus executed on 12 February 1554 probably only 16 years old.   Her father was executed 11 days later.  She is the only English monarch in 500 years to have no contemporary proven portraits.
Intrigued?  Want to find out more? Join us on one of our guided tours of Tudor England.
< Back to News