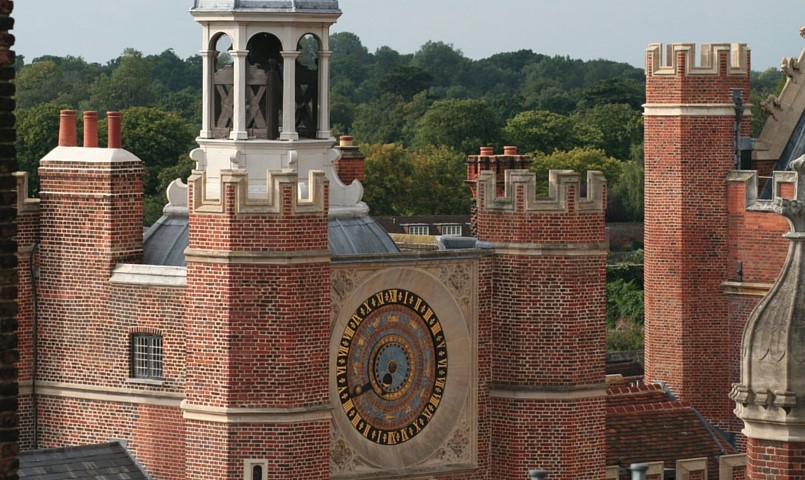 Roof top tour is the tops!
24th July 2016
On rare occasions Historic Royal Palaces allows members to explore the rooftops of Hampton Court Palace.  One day during the summer Tudor History Tours took advantage of that and spent a glorious hour exploring the Palace with a bird's eye view.
You enter through the old apartments' entrance winding your way up a wide staircase blackened by soot half-way up from a fire in the past.  You're warned that it's a long way up so anyone with vertigo should state so now, but everyone in this small group of 8 people declare themselves fit and well.  Soon the guide opens the door to the roof and ushers your through one by one and you step into the sunshine.
From here you can inspect parts of the Palace that are hidden from the normal visitor: the nursery apartments for Henry VIII's children, a courtyard now blocked, the intricate brickwork of the amazing chimneys and close up, the famous golden clock.  With a bit of imagination you can see the footings of parts of the Tudor Palace which had been demolished centuries ago.  Thankfully it was a lack of money which prevented a complete rebuild of the old Palace in Georgian times.  Stretching below you are the fountains, their spray forming rainbows in the sunshine, the sparkling blue Thames River flowing past the Palace's beautifully maintained gardens.
It is a pleasure and a privilege to be on the rooftops.  Alas it happens so infrequently that we are unable to include it as a normal part of our tours but it has added to our knowledge of this magnificent building which we are now able to pass on to you when you join us.
< Back to News