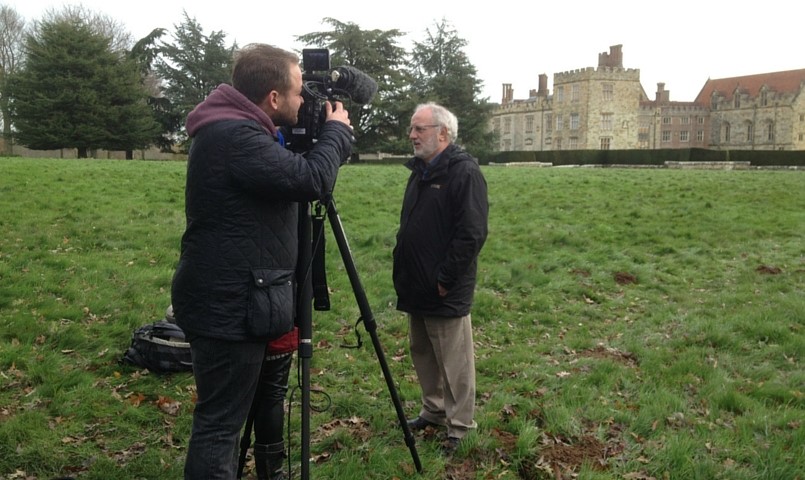 BBC films Tudor History Tours
15th June 2016
When the UK's premier broadcaster, the BBC asked Steve from Tudor History Tours if he would agree to be part of a documentary about the love affair between Henry VIII and Ann Boleyn.  He didn't need to be asked twice!
On a cold windswept autumn day he went to Penshurst Place in Kent, a favourite haunt of Henry and later, of his daughter Elizabeth, to be joined by the film crew.  The microphone was attached to his jacket, he was asked to stand so the towers of Penshurst could be seen behind him and waited for the questions.
What was it about Ann that so entranced Henry?  How did she manage to keep him at bay for so many years when other women failed and were bedded as mistresses?  Was she really a witch as suggested during her trial?  Could the fact that only bore him a daughter be the only reason she was beheaded? Why did the people turn against her? 
Filming was interrupted many times when the noise from traffic grew too loud, or the flights to and from Gatwick airport came overhead, and then when filming was close to a wrap, a helicopter came immediately overhead.  The questions began again.  Two hours later and it was finished.  Steve hadn't moved once during the cold morning and his legs were rooted to the spot.  A quick cup of steaming coffee though and he was revived.
It took another four months before the documentary was aired on UK television.  How much had been left on the cutting room floor? He was in esteemed company with the other contributors being well known academics and authors.  All in all, it was quite an experience and Tudor History Tours got it's recognition on UK television!
< Back to News